English
Living with Cotton
Exploring New Markets for Cotton.Developing Cotton in the 21st Century.
Since 1948,Marusan Industry Co.,Ltd. has been a leading manufacturer of high quality absorbent cotton (Japanese Pharmacopeia) for hygiene,medical and cosmetic products in Japan.
With developing unique own technology for bleaching cotton and manufacturing nonwovens,Marusan has become to be known as a company of initiative in the market today.
Marusan is supplying various products for hospital use such as absorbent cotton,alcohol swab,nonwoven gauze etc.
Marusan's cosmetic cotton/puff brand "Selena"is well known for its high quality and other consumer products such as cotton swabs,wet wipes and tea bags are also supported in the market for years.
Marusan is also well known as a manufacturer of 100% cotton spunlace nonwovens"Miracle Cotton"for hygiene and medical products."Miracle Cotton"nonwovens are utilized as a dry-wipe in the clean rooms in Japan and overseas markets today.
Recently,the direct sowing of rice seeds in the cotton web is hold the spotlight in the agricultural industry as it is very new organic rice farming system,easy to handle and gentle to the environment.
Marusan would like to contribute to the society to introduce the unique cotton products good for the health and beauty of human life as well as the products good for the environment in keeping with the motto"Create, Challenge and Contribute the society".
Lastly it would be very much appreciated if we might have your precious patronage and guidance and if we might have the chance to comply with your requirement soon.
Yours sincerely,
Motohiro Kikuchi
Representative Director & CEO
Natural
We supply cotton to your daily life in products we make, using the gifts of Nature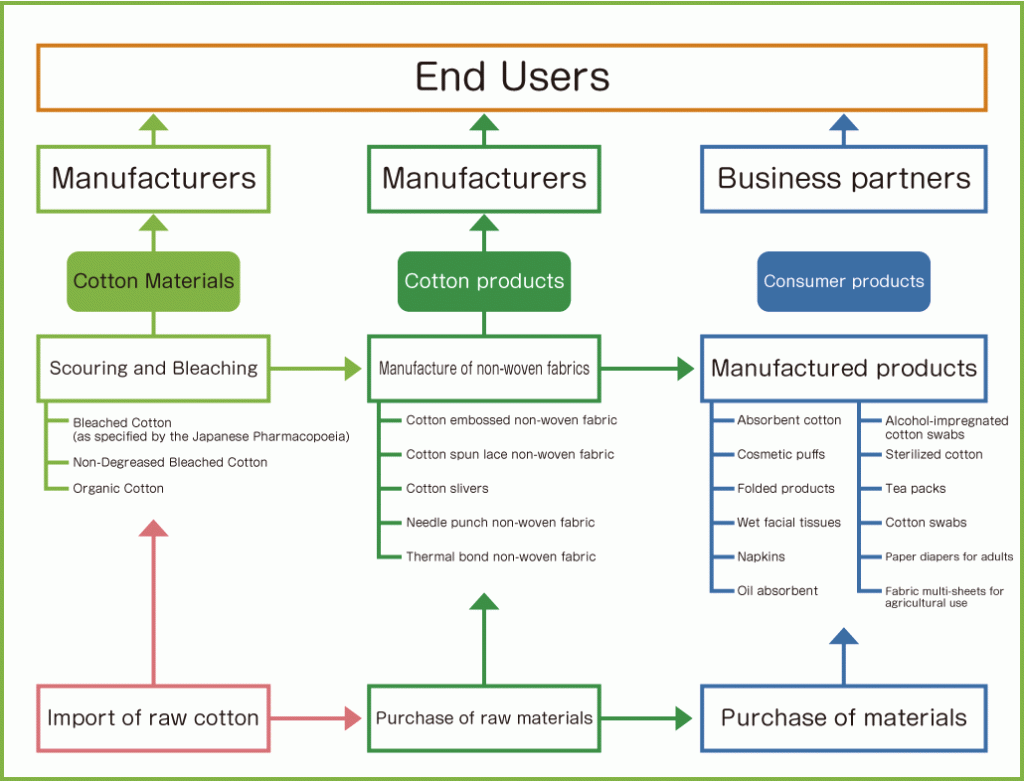 Ozu factory
Ikazaki factory
MCT Saijo factory
Creation
Bringing Nature's gentleness into your life.
Cotton products are used in various aspects of people's daily lives.
Because they are worn directly next to the skin,they need to be soft, smooth, and comfortable.
We offer an extensive lineup of item that provide a pleasant touch of natural cotton for everyday use.
Our goal is to provide a"moment of comfort"with our cotton goods.
Though small in size, each of our products gives the comfort that only 100% cotton can offer.
At Marusan, we keep this concept in mind as we develop, produce, and supply cotton products.
With a wide variety of products to meet the diversified needs of today's consumers, Marusan's cotton goods are used in an expanding range of applications.
Our products have been developed with the aim of enhancing safety and security through the manufacture of clean, pure cotton products for delicate skin. We also endeavor to provide "a little convenience" by venturing info a variety of untapped areas in which cotton can be used. We will continue to create new items for the people who love 100% pure cotton.
Factory
Creating a ever-expanding world for soft cotton with the most modern equipment and advanced technology.
Our facilities, the most extensive in Japan, combined with our unique technology are key to our No.1 market share and high-quality products.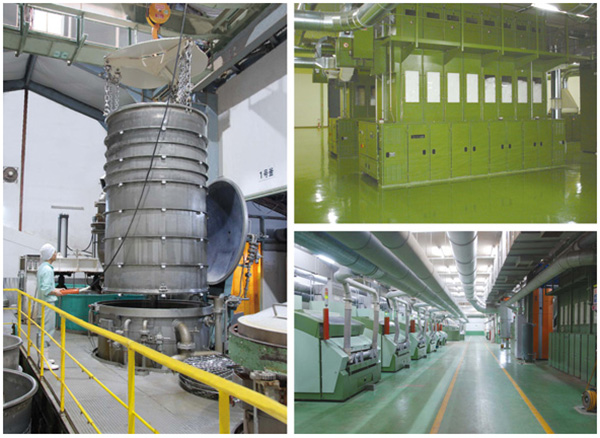 All processes at Marusan are integrated, from the processing of cotton materials to the manufacture of finished products.
The most advanced robot machines and fully automated equipment enable us to ensure high production capacity and quality. We have developed a powerful array of new technologies including "Miracle Cotton,"the industry's first 100% cotton non-woven fabric spunlace produced on a commercial scale. Our non-degreased refining process preserves oil contained in natural cotton in an effective manner. The manufacture of our diverse cotton products and our top share are supported with the world's leading equipment and technology.
Quality
"I wish I had…"Responding to such wishes, we expand cotton's possibilities to meet every user's needs.
We aim for quality that exceeds what is called"best."
Thoroughly refining each and every process we use,
we are able to create high-quality products meeting the user's expectations.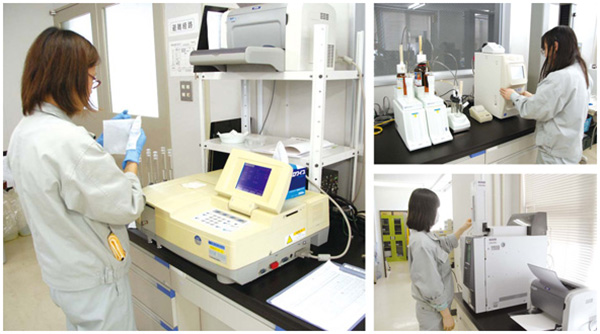 Marusan manufactures and supplies a wide range of cotton products including non-woven cotton fabrics, consumer products such as cosmetic puffs and nursing products, and cotton materials used for medical, industrial, and environmental applications.
Cotton has the ability to make life more enjoyable and pleasant, and our R&D staff is dedicated to the planning and development of new products in order to respond to consumers' needs as they change with time. We continue to expand cotton's possibilities through our diversified lineup of products.
All things are interconnected-people with other people, people with their societies, and societits with the world.
We started our contribution to society by being"user friendly."
Direct sowing of rice in paddies using non-woven fabric mulch-sheets
As part of its corporate activities,we at Marusan attach importance to making a positive contribution to the global environment and society. In this effort, we use cotton as the material that's friendly both to people and nature. For example, we have been successful in developing a non-woven fabric mulch-sheet for use in the direct sowing of rice in the paddies. In Japan, powerful herbicides have been developed, one after another, since the end of World War II. Although these chemicals saved much labor in rice growing, the ecological systems in farmland throughout the nation have been significantly weakened. The use of herbicides also causes serious environmental problems. This called for a farming technique that can produce more healthful rice while restoring the environment. It was against such a background that the technique of direct sowing of rice in the paddies using mulch-sheets has been developed. With this method, rice seeds are inserted between fabric sheets which are spread over the paddy. This is an innovative farming technique to grow better tasting rice while conserving the natural environment.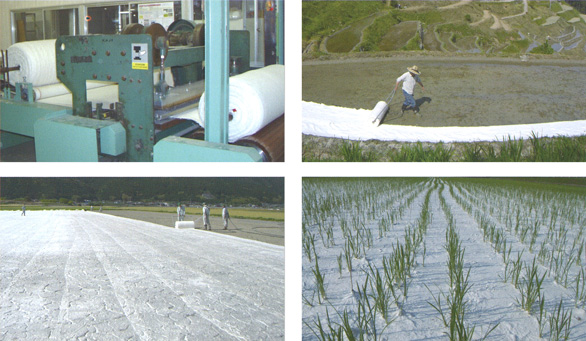 History
History and data tell the brand of reliance.
The 21st century of a cotton will be created by the further pace.
Company Profile
Trade Name
MARUSAN INDUSTRY CO.,LTD
Head Office 
1349 Tokunomori, Ozu City, Ehime Prefecture,Japan
Date of Establishment
October 27, 1948
Capital
290 million yen (As of Feb, 2017)
Accounting Period
February (Once a year)
Business Outline
Manufacture and sales of sanitary materials and hygiene products focusing on cotton
Number.of Employees
Men: 310 Women: 200 Total: 510
(Including temporary, part-time and casual employees)
Executive Officers
Representative Director & CEO Kimitaka Kikuchi
Representative Director & President Motohiro Kikuchi
Managing Director Sunao Morimoto
Director Junkichi Okayama
Director Tateo Shimizu
Director Hiroki Matsukawa
Auditor Yasuhiro Sone
Main Products
Absorbent cotton, makeup cotton, sterilized cotton, cotton buds, cleansing cotton, tea packs, wet tissues (handy packs), oil absorbent, bleached cotton, nonwoven cotton fabrics and other original fabrics, cloths for agricultural use, mulch sheets (for rice farming, citrus)
Main Suppliers
ARATA CORPORATION, AEON CO., LTD., Iwatsuki Co., Ltd., ALL JAPAN DRUG Co., Ltd., KAWAMOTO CORPORATION, Sojitz Corporation, Daiei Co., Ltd., HIROSHIMA KYOWA BUSSAN Inc., NID, Japanese Consumers' Co-operative Union, Hakujuji Co., Ltd., Paltac CORPORATION, Marubeni Corporation, MORIKAWA SANGYO, LTD., UNITIKA LTD. and more (arranged in Japanese syllabary order)
Main Clients
ITOCHU Corporation, Sumitomo Corporation, SEKI Co., LTD., ZENNO & CO., LTD., Sojitz Corporation, SODA NIKKA CO., LTD., Daiko Menka Co., Ltd., Dai Nippon Printing Co., Ltd., TOPPAN PRINTING CO., LTD., TOYOSHIMA & Co., Ltd., Mitsubishi Shoji Packaging Corporation, UNITIKA LTD., and more (arranged in Japanese syllabary order)
Main Banks
THE IYO BANK, Ltd., Mizuho Bank, Ltd., 
Affiliated Companies
Ehime Mokuro Kogyo Co., Ltd., MCT Saijo Co., Ltd., UMCT Co., Ltd., Harumi Corporation, Eco Products Co., Ltd., Cotton Labo Co., Ltd., DAISAN Co., Ltd.
Company History
May 1941
Began operations as a business located in Yawatahama City, manufacturing mulberry fiber cotton as a factory under the direction of the navy, supplying military clothing spun from cotton and other mixed fibers
October 1948
Brought under new management and established as "MARUSAN INDUSTRY CO., LTD," which continued on all operations relating to cotton spinning, woven fabric towels, dyeing and the manufacture of sanitary materials (absorbent cottons, gauzes, etc.)
February 1963
Begins manufacturing sanitary napkins
April 1970
Establishes a manufacturing plant for sanitary napkins in Tokunomori, Ozu City and moved production from the Head Office in Yawatahama City to this plant to deal with increased sales volumes
December 1970
Develops a sanitary napkin with activated carbon to eliminate odors, and obtained a manufacturing license from the Ministry of Health and Welfare
January 1972
Devised a taped sanitary napkin and developed the manufacturing equipment to produce it with Nitto Denki Kogyo Co., Ltd. Became the first company in Japan to obtain a manufacturing license for it from the Ministry of Health and Welfare
February 1972
Added a makeup cotton manufacturing plant to the Ozu Plant and began manufacturing dual sided press-type cosmetic powder puff
July 1978
Acquired Orion Yakuhin Kogyo Co., Ltd., located in Fuchu City, Tokyo, and established a cleansing cotton plant within the Yawatahama Plant
September 1985
Established MIEUX Products Co., Ltd. within the Ozu Plant as a joint investment with Shiseido Co., Ltd. and began manufacturing sanitary napkins
October 1985
Newly established a plant in Ikazaki-cho, Kita-gun and consolidated all absorbent cotton manufacturing facilities to set up an end-to-end production system that covered everything from scouring processes to absorbent cotton production. Also newly established manufacturing facilities to produce nonwoven fabric cotton using the water jet system
August 1986
Established thermal bond nonwoven fabric manufacturing facilities within the Ozu Plant site
December 1989
Relocated Orion Yakuhin Kogyo Co., Ltd. from Yawatahama to within the Ozu Plant site and began operations from January of the following year
June 1990
Implemented various processing equipment in relation to the full-fledged production of dry gauzes that use 100% cotton nonwoven fabric as a base material and began manufacturing
September 1991
Doubled production in seeking to enhance and expand cotton nonwoven fabric manufacturing facilities
November 1992
Established a new warehouse and distribution center within the Ikazaki Plant
September 1993
Introduced a robotics system into the makeup cotton manufacturing process
March 1996
Newly established a mixed absorbent sheet manufacturing line within the Ikazaki Plant
March 1997
Introduced a robotics system for cut cotton in the absorbent cotton process
June 1998
Newly established a manufacturing line and began production for enclosed type powder puffs (silky)
August 2000
Began sales of Oil Hunter
September 2000
Established a new alcohol absorbent cotton plant within the Ikazaki Plant
June 2001
Launched the official MARUSAN INDUSTRY website
February 2003
Rebuilt the absorbent cotton plant and offices within the Ikazaki Plant
December 2004
Established the Environment Division (Manufacture of fabric mulch for paddy fields, oil absorbents)
February 2005
Newly established and began production at a needle punching process plant in Uwa-cho, Seiyo City, and acquired ISO9001 certification for the design, manufacture and sale of bleached cotton
November 2005
Acquired ISO9001 certification for the design, manufacture and sale of bleached cotton
November 2006
Expanded the scope of ISO9001 certification to include original fabrics and makeup cotton
April 2007
Rebuilt the Ikazaki Plant laboratories and enhanced quality assurance systems
June 2007
Selected as one of the "300 of Japan's Vibrant Monodzukuri (Manufacturing) SMEs, 2007"
January 2008
MARUSAN INDUSTRY's mulch sheets accredited as being an outstanding recycled product
July 2008
Established MCT Saijo Co., Ltd. in Saijo City
November 2008
Expanded the scope of ISO9001 certification to include general medical devices, medicines and quasi-medicines
December 2008
Orion Yakuhin Kogyo Co., Ltd. obtains approval to manufacture and sell medicines
April 2009
Introduced eco-friendly ozone bleaching facilities into the Ikazaki Plant
November 2010
Established a basic agreement towards a business partnership with DAISAN Co. Acquired ISO14001 certification
April 2011
Established UMCT Co., Ltd. as a joint venture with UNITIKA LTD.
July 2011
Began using RPF boilers in the Ikazaki Plant (and switched to RDF boilers the following year) as a move towards achieving a zero emissions operating environment
November 2011
Began operations of the sales company Cotton Labo Co., Ltd., which was established based on a joint investment with Hakugen Co., Ltd.
October 2012
Opened account with the Development Bank of Japan
November 2012
Proceeded with the reconstruction of the Ozu Plant, newly establishing the overseas-focused cosmetics and enclosed powder puff lines and relocating and consolidating the quality assurance and inspection departments to the plant buildings to more effectively use plant facilities which had expanded following the withdrawal of Unicharm
March 2013
Installed solar panels on the roof of the Ozu Plant (280kw = equivalent to the general amount that would be used for 100 houses) and began selling electricity
March 2013
Installed solar panels within the Ozu Plant (equivalent to 280 kw) and began selling electricity
June 2014
All shares in DAISAN Co. were acquired, making it a 100% wholly owned subsidiary
August 2014
All shares in Cotton Labo Co., Ltd. were acquired, making it a 100% wholly owned subsidiary
October 2014
Installed solar panels within the MCT Saijo Co., Ltd. Plant (equivalent to 270 kw) and began selling electricity
January 2015
Business merger of Orion Yakuhin Kogyo Co.,Ltd.
August 2015
Expand pouch-type of medical products manufacturing facilities
Network
As a consequence of out challenge to open up new horizons,our market is expanding form Ehime to cover all of Japan…and around the world.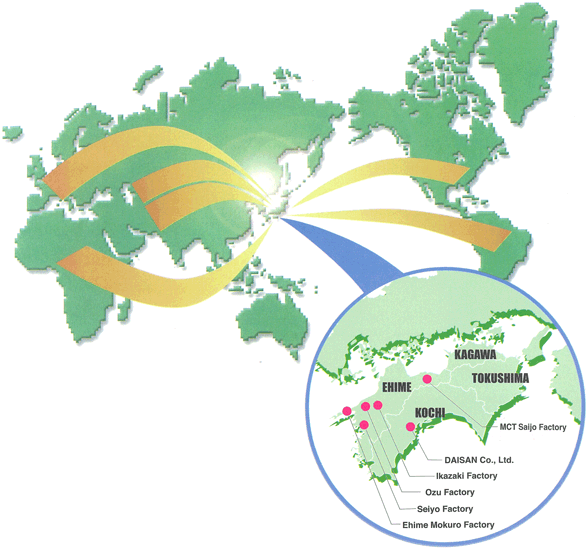 Head Office
1349 Tokunomori, Ozu City, Ehime Prefecture 795-8508
Tokyo Branch
1-13-4 Kita-Otsuka, Toshima-ku, Tokyo 170-0004 (4F Oak Otsuka Bldg.)
Osaka Branch
1-4-11 Kawaramachi, Chuo-ku, Osaka City 541-0048 (6F Eizai Bldg.)
TEL.06-6228-7770 Fax.06-6228-7766
Ikazaki Factory
757-1 Ikazaki, Uchiko-cho, Ehime Prefecture 795-0301
Ozu Factory
1349 Tokunomori, Ozu City, Ehime Prefecture 795-8508
Ehime Mokuro Kogyo Co., Ltd.
2-79 Kiki, Honai-cho, Yawatahama City, Ehime Prefecture 796-0111
MCT Saijo Co., Ltd.
3-4 Hiuchi, Saijo City, Ehime Prefecture 793-0003
Eco Products Co., Ltd.
950-1 Tanaematsuchi, Uwa-cho, Seiyo City, Ehime Prefecture 797-0032
Harumi Corporation
1349 Tokunomori, Ozu City, Ehime Prefecture 795-8508
Cotton Labo Co., Ltd.
1-13-4 Kita-otsuka, Toshima-ku, Tokyo 170-0004 (4F Oak Otsuka Bldg.)
DAISAN Co., Ltd.
2258-3 Akaoka-cho, Kanan City, Kochi Prefecture 781-5310