Fabric multi-sheets for agricultural use
Fabric multi-sheets for agricultural use
We have developed the "fabric mulch sheet," for a people- and eco-friendly faming method involving cotton recycling. The mulch sheets are made by laminating together two sheets of nonwoven fabric made of scrap cotton, produced as a by-product of our manufacturing processes, with rice seeds placed in between them. They were jointly developed by Marusan and Dr. Yukito Tsuno of Tottori University.






What are「Nonwoven Mulch Sheets」?
Nonwoven mulch sheets are an earth-friendly rice farming method, researched and jointly developed by Dr. Yukindo Tsuno, emeritus professor of Tottori University and Marusan Industry. They are made by laminating together two layers of nonwoven fabric sheets made from recycled cotton, in between which rice seeds can be placed.
乾いた田でのマルチ布敷設(Mulch sheets applied on a dry field.)
田植機利用によるマルチ布敷設(Mulch sheets laid down using the rice transplanting machine.)
津野幸人農学博士(Dr. Yukindo Tsuno)
Cultivation and Character
Cultivation
Spread the mulch-sheets over the rice field and pour water under them so that they float (irrigation).
Mulch sheets prevent weeds from growing beyond them, while allowing rice plants to grow through them. As such, the need to be concerned about the negative influence of weeds is eliminated.
Once the mulch sheets have finished serving their role, they go back to nature as they are biodegradable (100% cotton) and break down over a period of 50 days. Rice made using this method is regarded highly as being of good quality and delicious taste.
Character

・No need for rice planting machines or seedlings.
・An environmentally friendly way to grow rice.
・Makes organic rice farming easily possible, while protecting the environment.
・Well suited for various types of rice fields, even terraced or those in disrepair.
How to use the "mulch-sheets"
Place them in the water of the paddy. (They will not sink as they repel water.)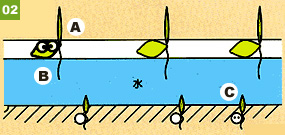 A: Rice husks will sprout and penetrate the sheet.
B: Roots will spread below the sheets into the water.
C: Aquatic weeds will also grow.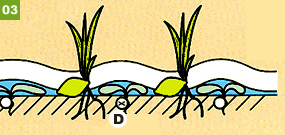 3. Confirm that the cultivation is ready and drain the irrigated water.
D: Mulch sheets prevent weeds from growing, while allowing the rice plants to grow through them.


1. Cultivate the rice field with organic fertilizers.
2. Level the field, and when it is dry, lay down the mulch sheets.
3. Maintain the above steps 1 and 2 for 20 days.
4. Completely drain the irrigated water and let the rice field dry.
5. After this, irrigate the rice field periodically.
Specifications of the "mulch sheet"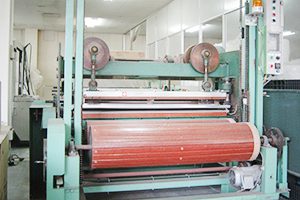 Size of a single roll: 110cm (w) x 100m (l)
* Seeds are lined in 4 rows at intervals of 25 cm.
* About 10 rolls are needed to cover 10 acres.

We accept orders for customized mulch sheets using seeds provided by the customer (minimum order: 10 rolls).
As a substantial amount of time is required for the process of "sandwiching" the seeds in the sheets, please confirm lead time required when placing an order.
Non-woven fabric mulch sheets for vegetable fields also available.
※Very effective for cultivating vegetables, trees, and shrubs.
野菜用布マルチシート「レタス」(Vegetable mulch sheet for lettuce)
野菜用布マルチシート「ピーマン」「なす」(Vegetable mulch sheet for green peppers and eggplants)
野菜用布マルチシート「すいか」(Vegetable mulch sheet for watermelon)
野菜用布マルチシート「かぼちゃ」(Vegetable mulch sheet for pumpkins)