Philosophy / Vision
Living with cotton, exploring new markets for cotton,
and developing cotton in the 21st century.
Message from the President
Cotton is the fiber that humans are most familiar with. People have cultivated cotton since prehistoric times. Since our foundation, our company has walked hand in hand with cotton.
With our company mission "Think, Take Action, and Be Thorough" as our motto, we study the characteristics of cotton and explore new possibilities as we develop our original and creative business with a focus on nonwoven fabrics. Our variety of products, derived from our very own Miracle Cotton nonwoven and its raw material, "bleached cotton," have been widely favored in fields including cosmetics, medical care, and hygiene. As a result, we have been pleased with our trade expansion, not only within Japan but also beyond, to Asia, Europe, and North America.
We also aim to be a company that can broadly contribute to the world through the production of safe and compliant products and by promoting sustainable environmental conservation activities including the prevention of pollution. By further refining the stable provision of high-quality products, something we are able to do precisely because we handle everything from raw materials to finished products, we will go forward as an environmentally friendly company that deals in sustainable natural materials as we continue to propose new possibilities for cotton.


New Symbol and Logotype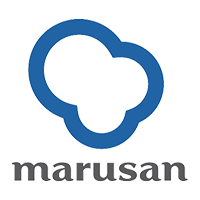 [ クリエイティブ・コットン ]
Creative Cotton

Our new symbol is based on a cotton plant motif. The three circles that make up the symbol embody our company motto, "Think, Take Action, and be Thorough." The white space signifies the creative management policy of Marusan, an original and ingenious company that manufactures and distributes mainly cotton sanitary materials and products. Under this symbol of "creative cotton," Marusan strives to be a company that contributes to the global and local communities and a company that can realize our employees' collective dreams. With these goals, we will continue to pour efforts into meeting various challenges and achieve further growth.
Company Policy
"Think, Take Action, and be Thorough."
Management Philosophy
Living with cotton, exploring new markets for cotton, and developing cotton in the 21st century
Management Vision
Establish a well-prepared business structure by focusing on ensuring the quality of our management.
Become a publicly-traded company to gain wide recognition across the globe.
Become a one-of-a-kind company by establishing our own unique technologies developed through years of experience in cotton.
Become a vibrant company where employees find their jobs meaningful.
Basic Policy on Quality and the Environment
2022.03.01
Marusan Group has a firm policy that its businesses be conducted in compliance with legal and other requirements, respond to demands in order to improve customer satisfaction, and carry out production while ensuring safety and observing laws and regulations. In putting our policy into practice, we are driven to take action aimed at realizing a sustainable society and to promote activities aimed at the preservation of the environment. To build a strong relationship with the community, we strive for constant improvement by reviewing quality and environmental management systems on a regular basis.
President's 2022 Management Policy
【1】 Become a company with an "economically resilient earnings structure."
【2】Create a workplace that is worth working in our own hands.
【3】Promote operations to enhance sustainability.