Philosophy / Vision
Living with cotton, exploring new markets for cotton,
and developing cotton in the 21st century.
Message from the President
Cotton is the fiber that humans are most familiar with. People have cultivated cotton since prehistoric times. Since our foundation, our company has walked hand in hand with cotton.
With our company mission "Think, Take Action, and Be Thorough" as our motto, we study the characteristics of cotton and explore new possibilities as we develop our original and creative business with a focus on nonwoven fabrics. Our variety of products, derived from our very own Miracle Cotton nonwoven and its raw material, "bleached cotton," have been widely favored in fields including cosmetics, medical care, and hygiene. As a result, we have been pleased with our trade expansion, not only within Japan but also beyond, to Asia, Europe, and North America.
We also aim to be a company that can broadly contribute to the world through the production of safe and compliant products and by promoting sustainable environmental conservation activities including the prevention of pollution. By further refining the stable provision of high-quality products, something we are able to do precisely because we handle everything from raw materials to finished products, we will go forward as an environmentally friendly company that deals in sustainable natural materials as we continue to propose new possibilities for cotton.


New Symbol and Logotype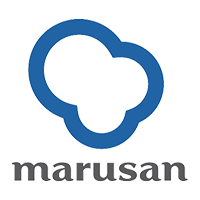 [ クリエイティブ・コットン ]
Creative Cotton

Our new symbol is based on a cotton plant motif. The three circles that make up the symbol embody our company motto, "Think, Take Action, and be Thorough." The white space signifies the creative management policy of Marusan, an original and ingenious company that manufactures and distributes mainly cotton sanitary materials and products. Under this symbol of "creative cotton," Marusan strives to be a company that contributes to the global and local communities and a company that can realize our employees' collective dreams. With these goals, we will continue to pour efforts into meeting various challenges and achieve further growth.
Company Policy
"Think, Take Action, and be Thorough."
Management Philosophy
Living with cotton, exploring new markets for cotton, and developing cotton in the 21st century
Management Vision
Establish a well-prepared business structure by focusing on ensuring the quality of our management.
Become a publicly-traded company to gain wide recognition across the globe.
Become a one-of-a-kind company by establishing our own unique technologies developed through years of experience in cotton.
Become a vibrant company where employees find their jobs meaningful.
Basic Policy on Quality and the Environment
2023.03.01
Marusan Group has a firm policy that its businesses be conducted in compliance with legal and other requirements, respond to demands in order to improve customer satisfaction, and carry out production while ensuring safety and observing laws and regulations. In putting our policy into practice, we are driven to take action aimed at realizing a sustainable society and to promote activities aimed at the preservation of the environment. To build a strong relationship with the community, we strive for constant improvement by reviewing quality and environmental management systems on a regular basis.
President's 2023 Management Policy
We care about the core principles of making products as a manufacturer.​
【1】 We follow three principles: "Genba- our production process", "Genbutsu- our goods", and "Genjitsu- our reality" to bring out the best in us.​
【2】Create a workplace that is worth working in our own hands.
【3】Promote operations to enhance sustainability.
Marusan Sangyo Group Corporate Ethical Standards
We the officers and employees of the Marusan Sangyo Group have established Corporate Ethical Standards as prescribed below, based on our company mission and management philosophy, and are committed to abiding by them.
・We will maintain high ethical standards, respect the laws and fair social rules of the countries and regions in which we conduct business operations, as well as their spirit, and act in good faith.
・We will produce superior technologies and products, obtain the satisfaction and trust of customers, and contribute to the realization of an abundant society.
・We will respect the personality and human rights of individuals and strive to create work environments that are safe, characterized by openness, and comfortable to work in.
・We will proactively disclose business-related information and increase the transparency of our company.
・We will voluntarily and proactively engage in activities to help realize a better global environment.
・As a good corporate citizen, we will strive for mutual prosperity with all stakeholders, including customers, business partners, governments, local communities, and society.
We have separately established Action Guidelines based on our Corporate Ethical Standards and will follow it as the basis for our daily business activities and tasks.
Marusan Sangyo Group Action Guidelines
1. Relationship with Society
| | |
| --- | --- |
| Compliance with Laws and Social Norms | We will comply not only with prescribed laws and regulations but also with the ethical and moral values that lie behind them and will act in accordance with our Corporate Ethical Standards in anticipation of future legal standards. |
| Relations with Antisocial Forces | We will respond resolutely to anti-social activities and forces and will maintain no relations of any kind with them. Also, in the event we receive unreasonable demands from antisocial forces, we will maintain a resolute attitude and will make no attempt to reach a monetary settlement. |
| Environmental Conservation and Protection | We take the impact our production activities and products have on the global environment seriously. We are committed to reducing our environmental footprint and seeking to find common ground with our operational efficiency. Beyond complying with environment-related laws and regulations, we will strive to prevent pollution and improve the level of our environmental conservation management. |
| Security Export Control | With the aim of maintaining international peace and security, we will not only refrain from engaging in actions that violate import and export-related laws and regulations as prescribed under international agreements but will ascertain that no illegal exports are made indirectly by business partners or others either. |
2. Relationships with Customers and Business Partners
| | |
| --- | --- |
| Product Safety | We will comply with product safety-related laws and regulations as well as safety standards in all processes, including product design and development, manufacturing, and sales. Also, we will conduct technological development to further improve safety, quality, and convenience to provide products that will satisfy our business partners. |
| Compliance with Antitrust laws | We will comply with laws and regulations applicable in Japan as well as foreign countries and regions related to anti-monopolization, fair competition, and fair trading. We are committed to conducting fair business activities. |
| Appropriate Transactions with Business Partners | When we select a business partner from among two or more options, we will compare and evaluate them in a fair manner with regard to terms including their overall management, financial results, and abilities to ensure quality control, respond to cost-related demands, manage delivery dates, effectively utilize technologies, and respond to environmental concerns. Based on this process, we will determine the optimal business partner. We follow a similar process when engaging in continued transactions. We are committed to engaging in fair and appropriate transactions without abusing our superior bargaining position. |
| Third Party Confidential Information | We will never illegally or improperly acquire or make use of trade secrets or other confidential information owned by third parties. Also, in the event we obtain trade secrets or other confidential information from business partners in a proper manner, we will conduct appropriate management and strive to prevent any improper disclosure. |
| Protection of Personal Information | We believe that we have an important obligation to handle the personal information (information that can identify a specific individual) of our customers and employees, etc. in an appropriate manner and to protect their rights and interests. We are committed to stringently managing the collection, storage, and use of personal information in accordance with our Personal Information Protection Policy. |
| Business Entertainment and Gifts | We will exercise moderation in social courtesies such as entertainment, gift-giving, congratulation, condolence, expression of sympathy following disasters, etc. to our business partners within the scope of socially accepted limits and means. |
3. Relationships with Employees
| | |
| --- | --- |
| Respect for Human Rights, Discrimination, and Harassment | We are committed to maintaining awareness of fundamental human rights in all of our corporate activities at all times and to never engaging in any acts that may lead to discrimination. Also, we are committed to never engaging in sexual harassment or power harassment, including using sexually suggestive language or engaging in behavior that hides behind the shield of authority. We will adopt a resolute stance against such behavior. |
| Workplace Health and Safety | We strive to maintain safe and healthy workplace environments and are committed to understanding and ensuring compliance with laws and regulations related to occupational health and safety. In the unlikely event that accidents or work-related emergencies occur, we will provide rapid and appropriate responses and make every effort to prevent any recurrence. |
| Compliance with Labor-Related Laws | We will comply with labor-related laws and regulations and strive to maintain work environments that are healthy and comfortable to work in. In order to prevent excessive work and overtime, managers will pay attention to subordinates' working conditions and physical and mental health conditions at all times, and employees will also try to self-manage these conditions. |
4. Relationship with the Company and Company Property
| | |
| --- | --- |
| Acting with Awareness as a Member of Society | We recognize our role as a member of society and are committed to maintaining high ethical standards as well as acting with awareness of our social responsibilities. |
| Appropriate Accounting | We will comply with appropriate accounting standards and internal rules based on relevant laws and regulations, conduct fair accounting processes and pay taxes in accordance with relevant tax laws. |
| Management of Trade Secrets | We will maintain proper management of knowledge and expertise obtained in the course of our work, information obtained from other departments within the company, and other matters regarding our technologies or trade secrets. We will never announce, disclose or leak such information externally without permission or inadvertently. |
| Proper Use of Company Assets | We will carefully protect the company's tangible and intangible assets (including information networks) and maintain proper management of them in order to make effective use of them. |
| Respect for Intellectual Property Rights | We will strive to never infringe on the intellectual property rights of others. Also, we recognize that intellectual property rights are important company assets, and we are committed to creating, protecting and making effective use of the Marusan Group's intellectual property rights. |
| Political and Religious Activities | We will not use company facilities to engage in political, ideological or religious proselytization activities, or solicitation activities that would promote the interests of any particular individuals or organizations without the permission of the company. |