About product
Marusan holds one of the largest market shares in cosmetic pads
Our products are carried in many stores.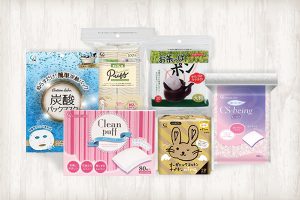 We are proud of having one of the top-level market shares in cosmetic pads. We are seeing increasing demand in the medical industry to which we also provide products such as absorbent cotton and sterilized cotton.
As products diversify in response to the advancement of medical technology, we are prepared to provide new added values to our offerings.
Additionally, we are tackling the challenge of developing a pesticide-free farming method using a product called "mulch sheet" made with natural cotton.
We are working to fulfill great expectations in areas of environmental conservation and food safety.